Mrs Marsh's Book Recommendations
This week's selection:
Picture Books
The Longest Letsgoboy by Derick Wilder
This is a beautiful story about saying goodbye to a pet through beautiful pictures and very few words. It is a story about love, loyalty, letting go and new beginnings.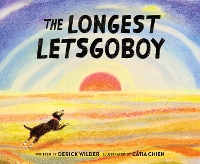 Nen and the Lonely Fisherman by Ian Eagleton and James Mayhew
This is a story about friendship that survives and grows despite others being against it.